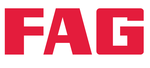 29416-E1 FAG Spherical Roller Thrust Bearing
Description
29416-E1
FAG Manufacture
Spherical Roller Thrust Bearing

FAG axial spherical roller bearings in the E version have proved highly effective where high axial loads are present and there is a need to compensate for shaft deflections and/or misalignment of bearing seats. Since the introduction of the E version axial spherical roller bearings, new knowledge has been gained on bearing kinematics, production
processes have been refined and materials with higher performance have been developed. This knowledge and potential has been utilised in the development of the new E1 version of FAG axial spherical roller bearings. Due to the even higher axial load carrying capacity and the lower bearing temperature as well as the improved security against wear, it has been possible to further improve the operational security and cost-effectiveness. The E1 version will progressively supersede the commonly used axial spherical roller bearings of version E.
Dimensions
Dimension Bore: 80
Dimension OD: 170
Dimension Width: 54
Weight: 5170g