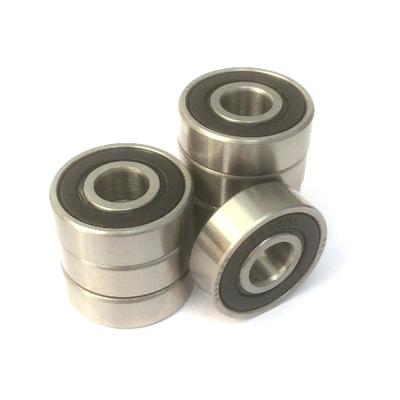 8 Skateboard Bearings Ceramic Hybrid 608 2RS Si3N4 Replacement Bearings
Description
608 2RS Ceramic Skateboard Bearings - Pack of 8

Dimensions : (8mm x 22mm x 7mm)
Si3N4 high quality ceramic balls
Stainless Steel Inner & Outer Races (S440C)
Rubber Seal on both ends.
Basic Load (Kgf) 134
Dynamic Load (Kgf) 331
Working Temperature : +90°C
RPM Oil : 36,000


Why Choose Ceramic Ball Bearings ?
Our Ceramic bearings are simply one the best skate bearings on the market today. If you are looking for high performance skateboarding bearings that will be strong, fast, smooth and durable, then look no further. Our Ceramic 608 2RS bearings are lighter and provide faster acceleration because the balls weigh much less. They create less friction and are faster. Ceramic balls will not rust, further lengthening their life.
Dimensions
Dimension Bore: 8
Dimension OD: 22
Dimension Width: 7
Weight: 100g